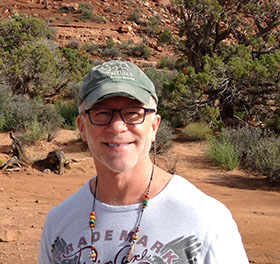 Hello and welcome to the VM Study group. My name is Dr. Ron Mariotti and I am the founder of the VM Study group program.
A little bit about myself...
I am a board certified naturopathic physician who graduated from Bastyr University and a member of the American Association of Naturopathic Physicians, the Washington Association of Naturopathic Physicians, and the American Society for Nutrition.
I have over 24 years of clinical experience and have studied extensively with J.P. Barral, the originator of Visceral Manipulation and Dr. Upledger, the originator of CranioSacral Therapy. I am also a certified teacher for the Barral Institute and hold a Barral Institute Diplomate certification.
I work with people of all ages, from newborn to the elderly and am recognized as an expert in visceral manipulation by other physicians and practitioners who routinely seek me out to study and enhance their own skills in this amazing discipline.
Currently, I am keeping busy with my practice, my lectures, my study groups, and my work on the 2nd and 3rd volumes in my three volume set of books to aid practitioners in the use of visceral manipulation in their clinical practice. That should keep me busy for a while!
I sincerely hope you enjoy your time with the VM Study group program. I look forward to working with each and every one of you.
Yours sincerely,
Dr. Ron Mariotti, N.D, BI-D
---
Education: Degrees / Certifications:
BS (Zoology) from The University of Washington
BA (English Literature) from The University of Washington
ND (from Bastyr University)
BI-D (Diplomat certification from Barral Institute)
---
Publications
Naturopathic Approach to Visceral Manipulation; Volume I
Melatonin and the Gut: The Untold Connection
Naturopathic physicians are Licensed Primary Care Providers educated in diagnosis and evaluation of medical disorders using standard conventional diagnostic procedures, functional diagnostic tools, as well as other methods focusing on the evaluation of the whole person; physical, emotional, mental, spiritual and energetic.
A naturopathic physician, after finishing an undergraduate degree and completing all pre-med requirements, must complete a four to six year post graduate medical degree as well as undergo basic and clinical science national board licensing exams.
Naturopathic physicians are trained in counseling, diet/nutrition, homeopathy, botanical medicine, physical medicine, minor surgery and the use of prescriptive drugs.